Bay ActivePT Blog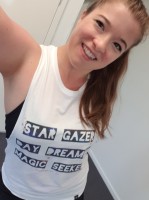 Are you Surviving or Thriving? (My Journey) 13/12/18
This workout singlet arrived in just the nick of time!!!

As most of you know I am about to set of on a trip. But this is a little more than just a normal holiday. I will be going back to my roots. To where a big part of my family comes from. Scandinavia!

Like any trip our tickets were booked 7 plus months ago. But in all honesty this is a journey and it really started many years ago. I have always wanted to go and see where my family came from. But it was two weeks before my 25th birthday that this journey really began. As my birthday approached I became more and more disappointed in myself.

I had achieved so little of what I had set out to do by the time I was 25.... Actually I hadn't achieved any of it. This broke my heart as I have always seen myself as someone who followed through on my promises and goals. That was when I realized I have spent the last few years focusing on surviving rather than thriving!
I had been living my life always more concerned for others than myself.

In saying all of this I do not mean I had not achieved anything. I had achieved many things just not what I had planned or expected. I felt like the second I realized this, things began to change. I began to stop trying to please everyone. THEN MY LIFE REALLY STARTED TO SHIFT!

In the years that followed I got married and built a house. I even negotiated some terms with my husband about travelling to Scandinavia. Which if anyone knows my husband they will understand what a big deal this is.

And then this year began. And Oh Boy, it has been a big one! I have had to address feeling of guilt and the fear of not being in full control of my business while I am out of the country. Talk about a roller coaster. But what I have learnt has been worth every second of anxiety and stress.
My business is now so much more dynamic and capable then is has ever been. I still have fear and guilt but I m aware and own it and that makes it a hell of a lot less stressful.

So now as the physical journey is about to begin in just a matter of days. I am taking the opportunity to reflect look back and see how much I have changed in my own personal path of growth. I am a Star Gazer, Day Dreamer& Magic Seeker. I AM CHOOSING TO THRIVE!

But now I wish to ask you to do the same. Look back and reflect.

ARE YOU SURVIVING OR THRIVING?

Are you acknowledging where you are and what needs to change to get you to where you want to be? In the fitness industry I hear day in and day out that people want to lose weight, etc. But do you openly acknowledge and accept your responsibility in your own results? Do you know what your part/role is in your own journey?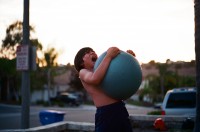 The two reasons most people quit exercise! 16/11/18
There are two key mistakes that I see people making when they undergo a training program.
The first is that they are not willing to accept themselves for who they are and where they are at.

Why is this such a issue? It leads to unrealistic goals and training programs. You spend more time sore from your workout then you do actually working out. Which ultimately leads to becoming dis-hearted and disappointed. The final result..... Quitting.
If we learn to accept who and where we are. We can then enjoy the progress and growth that we see along the journey.
The second biggest issue is they don't actually do the work. I hear day in and day out "I know what I need to do ... I just" At the end of the day it comes down to cause and effect. You do the work, you truly apply yourself and you will get the result. If your half arse it.... well what do you really expect?

If you want results... you have to apply yourself. Talking about eating healthier and actually eating healthy are two very different things.

So how can you fix these issues?

Practice Acceptance. Practice Applying yourself. You will be amazed at the results.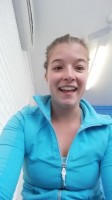 Reflection 25/09/18
This weekend I took a little visit down memory lane. I out of old habit drove into a car park and took my usual park.... It was my usual park at my old studio. My old studio, my first studio. It feels like a lifetime ago to be honest. But I sat there in my old car park and reminisced on every single moment. The moments that made me smile as well as the moments that brought me to tears. I can honestly say that having a small business has challenged me in ways that I never thought was possible.

And then I remembered this photo........ It looks a little bit strange doesn't it.

It isn't quite in focus and I don't really look ready for it either, but I took this photo of myself. I took this photo on myself to remind me there is a end to each hurdle. You just have to be willing to stick to it and ride it out. I had faced and conquered my hurdle and I wanted to remember the feeling.
To most people it's probably a bit weird that I felt the need to take a photo. But for me it was smart. I have never been good at looking back. Reflecting on where I have been and the road I have traveled to get me where I am today.

But I am learning and now it is something that I see far to often in my clients they struggle to see how far they have come in their journey rather then how far they are away from finishing it. But the thing I have learnt is..... The journey is never over, it just evolves.

So what am I trying to say..... Celebrate your wins, own your tears and enjoy the ride. Take time to reflect on each set back you have had and admire how much stronger that experience has made you.

All in all whether your a athlete, just your average gym junkie or just a standard human. Take time to reflect on your experiences. Be proud of yourself for not only what you have achieved but what you have over come.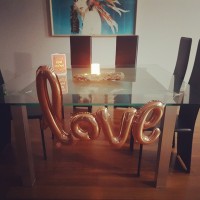 In a world that has become so hate driven, why wouldn't we celebrate LOVE when we get a chance?
15/2/18

I have seen so many posts about not celebrating Valentine's Day, because it is commercialized etc. I have seen posts saying "you should love your partner everyday" which is true but how often do we get court up in our own lives whether it be work or children and we forget all those who LOVE us, stand by us?

In this world were crime, bulling and suicide is on the rise what is the harm in a day that allows you to shoe how much you care not just for your husband, wife, girlfriend or boyfriend but also your friends and your children. Why not use this day for father's to teach their daughters that they should be treated like a Queen not as a object. Why don't we use this day to teach the young men of today that relationships are about more than sex.
I think we should use Valentine's Day as a opportunity to show our family , loved ones and ourselves that the simple pleasure of trust, love and respect. Love does exist it just needs some encouragement. It doesn't mean you have to buy presents but show your love and appreciation for yourself and those around you. Show up, be present, switch your phone off.

What do you think?
Dis you celebrate your love for someone on Valentine's day?
How do you show your friends and family you love them?
How do you show yourself love?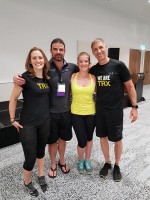 Filex 2017
Wow, what an incredible event this years Filex was. I am physically and mentally exhausted but so thrilled by our industry and where it is heading.
An event of this caliber is always hard to summaries.

All I can say is I am inspired & pumped to get back to work!
Caught up with so many great fitness professionals, Physios, Nutritionist and friends.

The best thing about events like this is being so submerged in the industry that you can be inspired by all that you see. Filex always feels like HOME!